How do I change/modify my order?
Please note that we can help you modify your order before shipment.
It includes changing the size or the color of an item, removing an item, changing your shipping address.
Once your package shipped, we will not be able to change anything.
Why it says refund when I didn't want a refund on my items?
As you know, Calceus is a large online shop, which has a large number of orders every day.
Our warehouse staff will process those parcels one by one in chronological order.
When you place an order, it may show that one item is still in stock. But in fact, the item was pre-ordered by other previous orders and may be out-of-stock when we process your order.
How do I track my orders?
Tracking your order is simple and easy to do. We will send you an email letting you know once your order has shipped. You can log into your Calceus account and find all your order information. Click on "My Orders" and click on "View Order Details" and you can find out where your package is.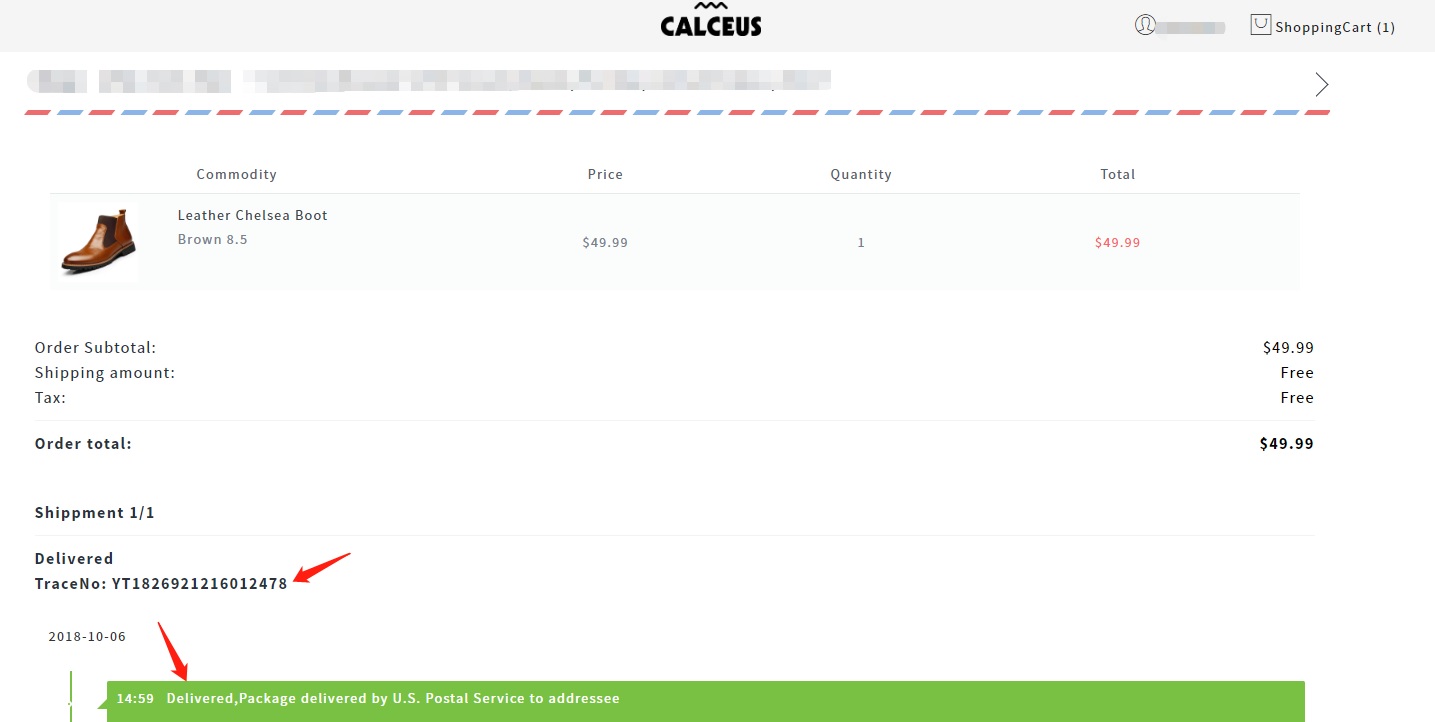 How long does it take for my order to ship?
When you place an order with Calceus we will have to process the order first. Processing usually takes 1-5 business days for your order. We will send you an email if the processing of your order takes longer than expected. Shipping time will depend on which country you reside in. Shipment normally takes 5-15 business days to arrive.
How do I cancel an order?
There are two types of order cancellations.
1. Canceling an unpaid order.
An unpaid order will be canceled automatically after 24 hours.
2. Canceling a paid order.
To cancel a paid order, you will need to submit a ticket here within 24 hours of ordering and send all the necessary information.
Please note that orders can only be edited or canceled within 24 hours of ordering and that any orders that have already been packed or shipped can no longer be canceled. Then please wait for your package to arrive and you may either keep it or contact us to arrange "return for refund".
How long will it take my order to arrive?
Here at Calceus, we take pride and strive to make sure all packages are delivered in a timely manner. You should receive your order within 8-17 business days from the date your order was placed. For more information on shipping please refer here. You may also track your order once it has shipped by signing into your Calceus account and clicking the "My Orders" button.
Why didn't I get an email about my order being shipped?
We will send you an email once your order has shipped. If you did not receive an email, you may have entered your email incorrectly or it could of went to your spam folder. It normally takes 3-7 business days for us to process your order and we will then ship your package out. If you have not received an email about your order being shipped within 7 days of the date you placed your order then please contact Calceus customer service here.
What should I do if I did not receive a confirmation email?
If you have not received a confirmation email about your order, you may have registered your email incorrectly or the email might be in your spam folder. You may log into your Calceus account and click "My Orders" button to see your orders. You may also mail to service@calceus.org to find out more information about your order.
How long does it take for me to get a refund?
Once your return is received and inspected your refund will be processed. While we make all refunds immediately, it can take up to 7-10 business days to reflect in some bank accounts. Please check your bank statements/PayPal account after this time.